Here is the biography, and a picture, of Vasily III.
"He surpasses all other kings and princes in the power he has and uses over his own people; what his father began he completed. That is, he turne out the princes and others from all the fortresses, neither leaving nor entrusting any fortress to his brothers. He holds one and all in his same subjection." - Sigismund von Herberstein (envoy of the Holy Roman Emperor to Muscovy)
Vasily Ivanovich was born in Moscow on March 25, 1479. He was the son of Ivan III and Sophia (Zoe) Paleologue. Vasily ascended the throne on October 27, 1505.
Even though Ivan III had left appanages to his four younger sons, Vasily forbade them to marry until he himself had produced an heir. When two of them died, unmarried, he took control of their lands.
"Carrying on the policies of his father, Ivan III, Vasily rounded out the territorial consolidation of the Russian state, formaly annexing Pskov in 1510, Ryazan in 1517, and Novgorod-Seversk in 1523 and gaining Smolensk in a war with Sigismund I of Poland and Lithuania in 1514."
Vasily's wife, Solomonia Saburova, was selected in 1505 from a bride show of 1,500 noble virgins. She was a beautiful girl, and a descendant of Rurik. However, in twenty years of marriage, she failed to produce any child at all. The Orthodox Church didn't recognize childlessness as grounds for divorce. However, Metropolitan Daniel, granted Vasily an annulment, against the advice of the Orthodox patriarchs. In 1525, Solomonia was banished ot a convent.
The following January, Vasily married Yelena Glinskaya, a 23-year-old princess of Tatar descent. Vasily was 46, and was so taken with his new wife, that he defied Orthodox custom by trimming his beard to please her. Yelena did not produce an heir until 1530. Their first child, Ivan was born on August 25, followed by a second son, Yury, in 1532. Yury was a deaf-mute, so the future hopes of the dynasty rested on Ivan.
In 1533, Vasily died from blood poisoning caused by an ulcer on his left thigh. Knowing that he was dying, Vasily had Metropolitan Daniel and a number of leading boyars gather together, and asked them to recognize his three-year-old son Ivan as his heir. His request to be made a monk was granted, and on December 3, 1533, he died.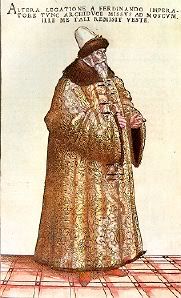 References:
Chronicle of the Russian Tsars: The Reign-by-Reign Record of the Rulers of Imperial Russia
by David Warnes
http://www.encyclopedia.com
Current Mood:
awake